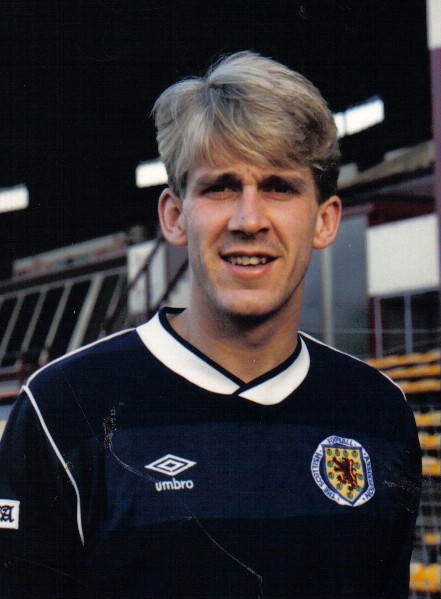 The week between Christmas and New Year is a strange one. Many people are off work and with the frenzy of Christmas Day itself dying down before the New Year is to be welcomed, those of us who are lucky to have a few days to recharge the batteries can occasionally find ourselves at a loose end. It's good to have some time off work but I'm a creature of habit and sitting doing nothing
doesn
't sit easily with me.
One task I did without too much persuasion was clear out a box of old football programmes, which had been lying gathering dust in the loft of
Chez
Smith for more years than I care to remember. A fascinating couple of hours ensued as I browsed through pages of Hearts programmes from years gone by - it was like travelling back in time! One particular programme caused mild amusement. It was for the Hearts versus Clyde League Cup tie - then sponsored by the
Skol
brewery - at
Tynecastle
in August 1987. Hearts match programme had been revamped for season 1987-88 and the new format was proving very popular. In fact it was so popular that Chairman Wallace Mercer felt the need to apologise in the programme for the Clyde game for the fact that programmes for the league game with Dundee United at
Tynecastle
a few days earlier had sold out - meaning many people
didn
't get a copy
Reading the programme 'pen pictures' of some of the Clyde players also brought a smile to my face. Goalkeeper Peter
Latchford
, for example, was described as spending twelve years with Celtic 'before realising the error of his ways…' Defender Paul
McDowall
was said to be 'known by his team mates as Rambo - but the resemblance was not easy to spot!' Midfielder Jim Murphy was described as being 'somewhat like
Maradona
in style and physique - although he is not a fluent Spanish speaker…' Clearly, the programme editor had a sense of humour…
It was interesting to note in the same programme that new laws had been introduced that season, one of which was the issue of a yellow card for any player who faked injury in order to gain an unfair advantage. Or, as the programme deftly put it 'caution any player who writhes around in mock agony or who, having been tripped, rolls over and over with grossly exaggerated impetus…' It's good to see that rule having such a dramatic effect on our game more than twenty years ago!
Hearts had begun season 1987-88 quite promisingly and were fresh from having put four goals past a Dundee United side who had appeared in the
UEFA
Cup final just a few weeks earlier and demolishing First Division
Kilmarnock
to the tune of 6-1 in the
Skol
Cup in the previous round. The remarkable statistic about that game was that Hearts scored six goals in one game yet legendary striker John Robertson
didn
't get any of them - while the somewhat less than prolific Neil Berry did! To emphasise the fact Hearts were high-fliers, chairman Wallace Mercer appeared in an advert in the programme for a car phone. He was pictured holding a contraption the size of a large brick to his ear…
Midfield player Gary
Mackay
- who would go on that season to not only play for Scotland but also score the only goal in a rare Scots victory against Bulgaria in Sofia, thereby enabling the Republic of Ireland to qualify for the European Championships in 1988 - was pictured receiving the man of the match award for his performance against
Kilmarnock
. At least the caption beneath the photo says it's Gary
Mackay
- I harbour my suspicions that it's actually eighties pop idol Simon
le
Bon
of Duran Duran fame (don't you love those old photos, Gary?!)

It has to be said that, at just seventy pence, the Hearts programme of season 1987-88 was excellent value for money, even if the 1970s penchant for players' profiles was still in use. In the Clyde programme, it was the turn of Hearts striker Wayne Foster to tell us his favourite food was chicken, his favourite drink was lager and he enjoyed any other sports…
I
hadn
't the heart to throw the programme out - it remains in the loft with many other classic match day programmes, a fond reminder of days - and styles - gone by. It lies in a box alongside the Hearts Song of 1986. Ah, vinyl! Remember the days when…